Music videos of songs from the RocKapampangan album? Not really. But new original Kapampangan songs of two of the bands included in the RocKapampangan project, yes.
Last Thursday and Saturday, Kalalangan Kamaru and Infomax shot the music videos of the opening and closing theme songs of
Kalam
, which are
Alang Anggang Sugat
(5 Against the Wall, Ramcos Nulud, John Canlas) and
Oras
(Mernuts) respectively.
Alang Anggang Sugat
was shot at the Henson-Hizon heritage house in the City of San Fernando. The video reveals a subplot in Kalam, where a rape victim (played by Kalam auditions semifinalist Frency Rodriquez) resorts to witchcraft to take revenge on the two boys who took away her virginity by force, which she considers to be an eternal slash in her soul. A special cameo appearance of Aries Yap as Yubs, his character in Kalam, is something to look forward to. The character of Kool is also present in the video, albeit played by Diego Dobles, Kalam Asst. Director.
Oras
, on the other hand, was shot at the lantern workshop of
parol
master Roland Quiambao in the same city. While the characters in the story are in no way related to Kalam, they feature five of the main cast, namely Nicolette Henson, Raco Del Rosario, Peter Danganan, Reachel Mucho, and Aries Yap. Jhaye Arzaga and Chao Chua of the Mernuts band also take part in the acting part.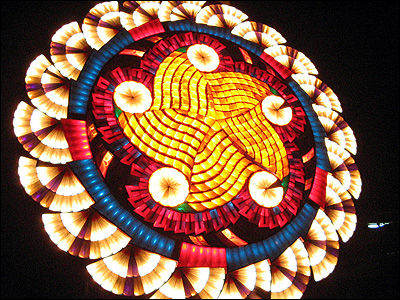 Wait for their airing at Infomax-8! We will also be posting the videos on YouTube. Keep visiting this blog for updates. If you haven't heard the opening and closing theme songs of Kalam, play them below.
Don't forget to attend the Grand Premiere of Kalam at SM City Pampanga on the 27th of August. It's totally
libri
.